Hi everyone,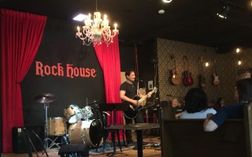 Since the last couple of weeks I've been joining the open mic nights at the Rock House Glenview.
It was pretty exciting because it has been a few years that I went on stage, and that was with a band.
now I'm solo and acoustic.
I purchased myself a vocal harmozinzer and looper from TC Helicon a little while ago and I have been practicing since.
I have to say that it works great! It adds so much more on your vocals and guitar sound.
It takes a lot of time to create your settings by the way, But in the end you'll be happy because you have created your own unique sound.
And people already talking about it like.... Hey you know? that guy? with the backing vocals...? haha
Very cool.
So the first time I played 3 songs,
Home - cover by Billy Cupdrup
So Beautiful - cover by Pete Murray
Move on - cover by Jet
The second time I played 2 songs,
Dreams - original by myself Will van Lierop
Bright Lights - cover by Matchbox Twenty
Today Tuesday July 25, 2017 I am going to do another 2 songs.
Opportunity - cover by Pete Murray
A Day Without You - original by myself Will van Lierop
I didn't had much time to practice last week otherwise I'd played a set of my own songs.
so I practice this week a little more for next week.
If you are in the Glenview area just by chance please stop by at the Rock House, 1742 Glenview Rd, Glenview, IL 60025
and say hi! they have great drinks and excelent grilled cheeses and pzza's
The open mic starts at 7:30pm till 9:00pm
Hope to see you then!
-Will